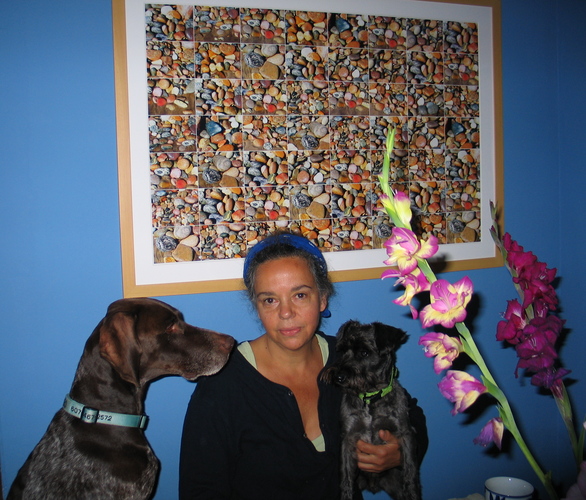 The artist upstate with Theo and Henry circa 2008
The artist found her calling in her early forties when she moved from New York city to rural Southern Tier surrounded by dense woodlands, stone walls, abandoned apple orchards and a diversity of wildlife. After years of living and working in Brooklyn and Manhattan at various non-profits and corporations, including outpatient mental health centers and Brooklyn Hospital's NICU, her dream was to move to the country. It was the solitude and quiet that first allowed her to paint large abstract work in a small upstairs bedroom of a little farmhouse at the top of a winding, dead-end dirt road. Living in the woods she had found her utopia.
Smolen is deeply connected to and concerned about the natural world. She ascribes to Edward O. Wilson's concept of "biophilia," the word he coined to describe humankind's deep affinity for nature. The artist believes nature is, as Wilson describes it, "the refuge of the spirit, remote, static, richer even than imagination."
The artist responds emotionally and viscerally to events (personal, environmental, societal) and works through each experience through multiple riffs and variations. Series include the early, abstract paintings
Biophilia, Dharma Rain
and
Persistent Song;
the horse motif in
Ridgeline
and
Wherever I Travel;
the memorialized girl holding the bird in
Girl by the Sea
and
Guardian;
drawings from Bela Tarr's film
The Turin Horse; Surfacing; Trees; Whales & Flukes,
and, currently,
Little Consolation.
Three
Illuminated Installations
of
Girl by the Sea
drawings and two
Box of Flukes
paintings round out the work so far.
Smolen presently lives and works in Beacon, New York.